Check two horoscopes for Compatibility
For the benefit of those who gets a lot of responses for their advertisements in marriage proposals sections and find it difficult to decide initially without consulting an astrologer which responses are worth further follow up, here I have included a link to a java applet which will allow you to match two horoscopes on some of the basic compatibility aspects.
Credit: The applet I will direct you now is in Sharma Kshitij's web site "http:// hindubirthcharts.com" and we should be thankful to him for giving the permission to use his applet.
Use this applet in your exclusion process. Select the best matches and follow up those, then with the final one or two, consult this web site or otherwise a good thrust worthy local astrologer for a more comprehensive match, which will help you to select the best matching partner. If done through this site a fee is charged for the service.
How to do it - Step by step instructions
First find out the Places of Birth of the responding parties.

Click here to find the geographic coordinates for those places

Find the Time Zones

Once you visit the web page with the applet, enter the data in following manner given in the example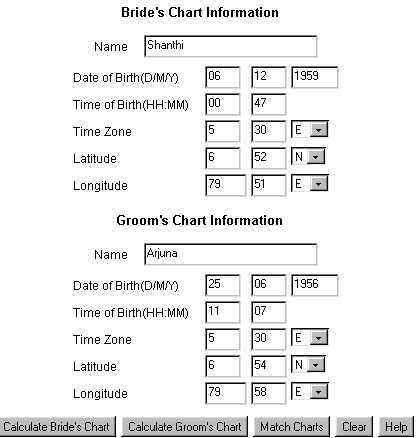 5. Once you click the Match charts button, you will get a result similar to the following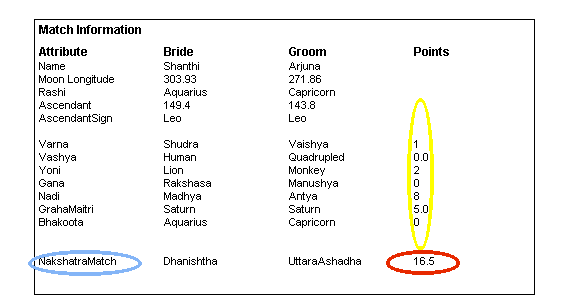 Now, check the value of Nakshtra Match, for 100% match the value of total points should be 36 and for a 50% match, the value should be 18. If the value is below 18 the couple would not match.
Note: In this example, the couple married in 1985 after a 3 years of a love affair and separated in 2001 after 16 years and two children.
Click Here to visit hindubirthcharts.com and match Horoscopes and then click Chart Matching link in the left