Copyright © 2001 - 2003
~ Sri Lanka Jyotisha ~
All rights reserved.
The Mission:
Presenting the knowledge of the past, in a manner applicable to present.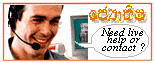 Sri Lanka Jyotisha ~ Jyotish is the Vedic system of astrology, originally from the Indian sub-continent. Whilst authoritative in it's content and recommendations, this site's data is also easily accessed by those from different backgrounds Fascinating!! ~ Astrologywizard.com - Site of the week review

Have you ever looked at your life in a different angle ?. Why good or bad things happen to us ?. Is it pure coincidence, or is there at least a certain bit of a predictable pattern ?. Spend a few minutes here, experiment with the

free readings below

to find it yourself.